Jesus entrusted the ministry of reconciliation to the Church. The Sacrament of Penance is God's gift to us so that any sin committed after Baptism can be forgiven. In confession we have the opportunity to repent and recover the grace of friendship with God. It is a holy moment in which we place ourselves in his presence and honestly acknowledge our sins, especially mortal sins. With absolution, we are reconciled to God and the Church. The Sacrament helps us stay close to the truth that we cannot live without God. "In him we live and move and have our being" (Acts 17:28).    
from the United States Catholic Catechism for Adults.               
Confession Times
Wednesdays 6pm-8pm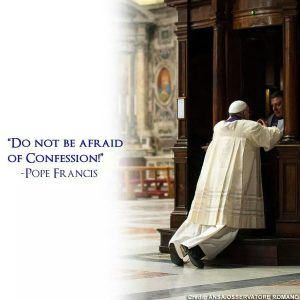 Jesús confió el ministerio de la reconciliación a la Iglesia. El Sacramento de la Penitencia es un regalo de Dios para nosotros para que cualquier pecado cometido después del Bautismo pueda ser perdonado. En la confesión tenemos la oportunidad de arrepentirnos y recuperar la gracia de la amistad con Dios. Es un momento santo en el que nos ponemos en su presencia y reconocemos honestamente nuestros pecados, especialmente los pecados mortales. Con la absolución, somos reconciliados con Dios y la Iglesia. El Sacramento nos ayuda a permanecer cerca de la verdad de que no podemos vivir sin Dios. "En él vivimos, nos movemos y existimos" (Hechos 17:28).
Horario de Confessiones
Miercoles 6pm-8pm